Safety Measures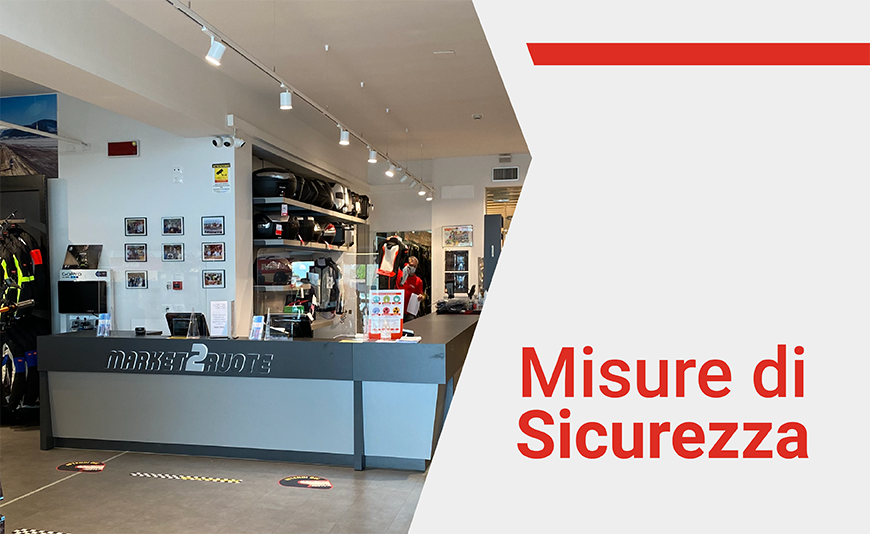 Safe Proceedings
The measures we have adopted are designed to ensure your and our safety and concern both the cleaning and sanitation of the premises and the sanitation of helmets and clothing.
Store Sanitization:
We guarantee daily sanitation thanks to a specific ozone machine that is used during closing times. This tool allows the sanitization of rooms, surfaces and objects by rapidly eliminating and inactivating microorganisms (viruses, bacteria, mold spores, etc.).
In addition to this, we proceed to further sanitize the premises several times a day with alcohol-based sanitizing detergents for cleaning work benches and objects used by employees. Our employees are equipped with masks for your safety and yours.
Hand sanitizing gels to be used before entering the store and as needed are located in several points of the shop.
Sanitization of products:
We guarantee the sanitization of the products present in the shop both thanks to sanitizing sprays available to shop assistants to be used both before and after testing the products. We also have a specific ozone machine for the sanitization of helmets.
The helmet test is carried out with the use of disposable balaclavas, to be used over the mask to test the helmets safely.
In-store access:
Customers must enter the shop with a mask; Safety distances must be maintained both inside and outside the premises and it will be possible to be accompanied by a maximum of one person where necessary.
Access will be monitored in order to ensure the presence of the correct number of people inside the store. We will also have a reduced staff to ensure entry to a greater number of people.
For more info contact us on info@market2ruote.it and follow us on our social Facebook and Instagram for any changes.
See you soon!